Summary eviction proceedings are expedited court proceedings designed for landlords and tenants to obtain expedited relief. Because of their unique and expedited process, strict compliance with the law, especially procedural law, is necessary. If you fail to comply with law, you risk dismissal of the case: "[o]n review of landlord-tenant proceedings, this court has uniformly applied the rule that the failure strictly to comply with the statutes governing summary proceedings deprives the court of jurisdiction and mandates dismissal" (MSG Pomp Corp. v Doe, 185 A.D.2d 798, 799 [N.Y. App. Div. 1992]). As such, being prepared before you ever serve a predicate notice is vital.
In a summary proceeding to evict a tenant or occupant, a landlord must establish to the sufficiency of the judge (or less commonly, the jury) several legal requirements. If the tenant is contesting their eviction, the landlord will likely need to overcome additional factors. Below, we address some of the necessary elements which must be established at trial.
1.     Corporate Entity in Good Standing
If the landlord is a corporate entity, they must be in good standing with the state to maintain the proceeding. To establish an entity is in good standing the landlord will want to obtain a certificate of good standing from the Department of State. The Department of State will not issue corporations and limited liability companies good standing certificate unless they file their biennial statements. Limited Partnerships have a similar requirement to file quinquennial statements. Failure to register may result in your eviction being dismissed, or more commonly, delayed.
2.     Limited Liability and Limited Partnership Publication Requirement
Limited liability companies and limited partnerships are required after formation to post notice of their formation in two local newspapers for six consecutive weeks. (See LLCL §206). Failure to post in two newspapers and file an affidavit evidencing the same will result in the landlord losing their right to sue in court. Courts have taken a lax approach when it comes to dismissing cases — although they occasionally do — however, they will stay a case until the landlord can show compliance with the publication requirements. Despite publication being a costly and useless endeavor that has no purpose other than supporting newspapers, it is necessary to maintain lawsuits in New York. In summary, landlords should perform their publication obligations when the entity is formed, however, if that didn't happen, the landlord should file them as soon as possible to avoid significant delay.
3.     Officers and Members of Legal Entities Cannot Represent Entities in Eviction Proceeding
In New York courts, other than small claims court, legal entities must be represented by an attorney. This applies even if the entity is wholly owned by that person. Members and officers cannot appear in court because they would be practicing law on behalf of the corporation or limited liability company. Therefore, to avoid delay, landlords should have counsel ready to go before the eviction proceeding is ever commenced.
4.     Right to Possession of the Premises
Landlord's must establish they have standing to maintain a proceeding. (See RPAPL § 721). Standing in a landlord tenant proceeding can generally described as the person or entity with a right to possession. If the landlord is also the owner of the premises, a certified deed is typically sufficient. If the landlord is not the owner of the premises, they must provide the documentation that gives them a right to possession. Typically, a non-owner will have a right through a lease agreement. Therefore, landlords should have their deeds, ground leases, net leases, over-leases, occupancy agreements, and their amendments ready and available before the first court date.
5.     The Parties Relationship
For a landlord to maintain a summary eviction proceeding, the parties relationship must be enumerated under Sections 711 or 713 (also 713-a relating to adult homes) of the Real Property Actions and Proceedings Law. RPAPL § 711 is entitled "Grounds Where a Landlord Tenant Relationship Exists" and RPAPL § 713 is entitled "Grounds Where No Landlord Tenant Relationship Exists." The easiest way to establish a landlord tenant relationship is to produce the tenant's lease and its amendments in court. However, not all tenants have leases so testimony and evidence of rent payments may be required to establish the landlord tenant relationship. If an eviction proceeding is commenced as a tenant holdover and it turns out there is no landlord tenant relationship, the proceeding will be dismissed and need to be commenced as a RPAPL § 713 proceeding. The same applies if a proceeding is commenced under RPAPL § 713 and it turns out there was a landlord tenant relationship.
6.     Predicate Notices
Unless the landlord is commencing a proceeding after the expiration of a lease, they will typically need to serve a predicate notice. Examples of predicate notices are 14 day rent demands, termination notices, notices of default, and notices to cure. The service of proper predicate notices is a necessity to maintain these proceedings and should be produced in court with an affidavit of service. In fact, predicate notices and their affidavits of service should be attached and made part of the verified petition.
7.     5 Day Rent Notices
The Housing Tenant Protection Act of 2019 included provision RPL Section 235-e(d) which requires a landlord to send a notice by certified mail at least five days after a landlord does not receive rent. While the language of the section does not specify whether the provision applies to only residential tenants, at least two court cases have interpreted it as such (See 181st Washington Hgts. Assoc. LLC v Children's Place, Inc., 72 Misc 3d 1212(A) [Civ Ct 2021]; 41 E. 11th St., LLC v WSIP Realty Corp., 66 Misc 3d 834 [Civ Ct 2020]). It is unclear at this time what relevance these notice holds in a court proceeding. The statute says that that failure to provide a five day notice may be used as an affirmative defense, however, the courts are unclear on how to interpret this provision. One court has interpreted the five day notice provision affirmative defense to be applicable only when there is a genuine issue of fact concerning the non-payment of rent (see Lawler v. Canfield, 66 Misc. 3d 312 [Watertown City Ct., 2019]).
8.     Rent Ledger
Landlords should maintain rent ledgers throughout a tenant's tenancy. However, not all landlords do so, and it is only to their detriment when they get to court. It is important for the landlord to evidence rent charged and rent received when establishing their prima facie court. This is considered a business record and should be introduced in court in non-payment proceedings and other disputes concerning rent paid. If a landlord does not have a rent ledger, one should be created simultaneously with the creation of the rent demand.
9.     HPD Registration
If you are seeking a money judgment in a residential case, you must have a valid registration on file with HPD. The registration information needs to be included the verified petition and must be up to date by trial. The New York City Administrative Code states that "An owner who is required to file a statement of registration under this article and who fails to file as required shall be denied the right to recover possession of the premises for nonpayment of rent during the period of noncompliance, and shall, in the discretion of the court, suffer a stay of proceedings to recover rents, during such period" (See NYC Admin. Code § 27-2107; MDL § 325). Therefore, landlords are not able to seek a money judgment if the building is not properly registered. In fact the case may even be dismissed. However, an invalid or missing HPD registration status does not prevent a landlord from recovering possession for a holdover if the holdover is not based on the collection of money: "We note at the outset that the absence of a multiple dwelling registration is not a bar to the recovery of possession in a holdover proceeding" Bornstein v Goldberger, 59 Misc 3d 135(A) [App Term 2018]. You can use the HPD website for further information and to register.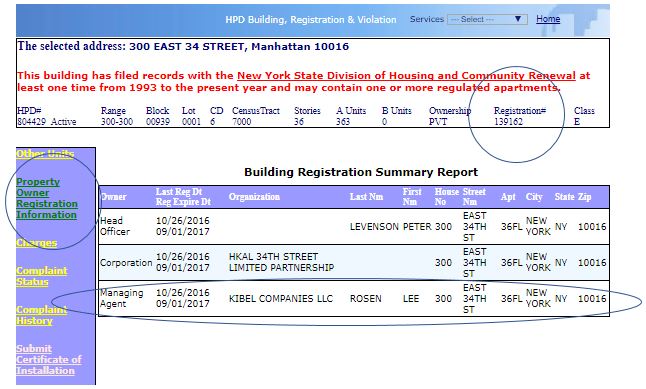 10.     Certificate of Occupancy
A certificate of occupancy may be an issue in a proceeding if a residential tenant challenges the legality of the unit. The New York Multiple Dwelling Law states that "[n]o rent shall be recovered by the owner of such premises for said period, and no action or special proceeding shall be maintained therefor, or for possession of said premises for nonpayment of such rent" (MDL § 301). As with an invalid HPD registration, a landlord can maintain an eviction based on a holdover that does not involve the payment of rent. It is important to determine early on whether the building's certificate of occupancy will be a factor in the case. You can check whether the building has a valid certificate of occupancy on the DOB Building Information Search page.
11.     Witnesses
While not always necessary in summary proceedings, witness can play vital roles. Property managers, roommates, neighboring tenants, and maintenance personnel are common witnesses and depending on the circumstances, many other people may be necessary witnesses. It is important to keep this in mind because their testimony maybe critical at trial. For example, a tenant's neighbor maybe able to testify about illegal conduct at the premises that the landlord or their agents did not witness. Witnesses will typically be summoned for trial so that the landlord can use the court to demand testimony.
12.     Communications and Litigation Hold – Emails, Letters, Text Messages, etc.
ALL communications between a landlord and landlord's direct agents should be preserved as soon as the landlord can expect litigation. By law, if any party reasonably anticipates litigation, they must preserve all documentation and communications which relate to the litigation.  Therefore, if a landlord expects to commence litigation or believes a tenant is going to , they should preserve all communications and documents and issue a litigation hold notice to its agents and employees.
13.     Photographs
Photographs are often important when there are questions about habitability and the condition of the premises when tenants vacate. Tenants typically raise habitability as a defense to negotiate a lower arrears payment and landlords will need to establish the condition of the premises when seeking damages. Therefore, landlords should make sure to document the premises before a tenant takes occupancy, when there are tenant complaints concerning the condition, when repairs are made, and when a tenant vacates the premises.
14.     Estimates and Work Invoices
Estimates and work invoices are typically useful for establishing corrected work and proving the work was completed in a timely matter. They are also useful to establish MCI and IAI increases in rent stabilized units.
15.     Coronavirus (COVID-19) Documentation
With the COVID-19 pandemic, compliance with the eviction moratorium is necessary to maintain a proceeding. You can read more about the requirements here.